The Women's Wisdom Pass-It-Along tradition has always included sharing recommendations on everything from parenting tips, recipes, cleaning shortcuts, advice on relationships and careers, and of course, products we love. Every month I list one or two outstanding items that meet my stringent inclusion criteria.
Product Inclusion Guidelines
IF I don't love it, it doesn't make the list. IF it doesn't make me feel more beautiful, relaxed, exhilarated, or joyful, it doesn't make the list. IF it doesn't make my life easier, it doesn't make the list. IF I've never used it, it doesn't make the list. IF it makes me LMAO, of course it makes the list!
Disclosure: as an amazon associate I earn from qualifying purchases.
Fun Compression Socks
CHARMKING 3 Pairs Copper Compression Socks for Women & Men Circulation 15-20 mmHg is Best for All Day Wear Running Nurse
I started wearing compression socks recently and vastly improved my leg health. Honestly, I feel like I have a new pair of legs! Prior to this fantastic and low-cost solution, my feet and entire legs (front and back) were aching and cramping on a daily basis. The pain would wake me up at night and every remedy I tried including intermittent walking, regular stretching, increasing my water intake, potassium, pain relievers, balms, etc., etc., provided only short-term, minimal effect. Then came these compression socks! I adore these stylish socks (many colors and patterns to choose from) and I LOVE how my legs feel now. Time for a happy dance!
Canva—Graphic Design Platform
I couldn't live without Canva.
I use it to design literally EVERYTHING for DDWP and for personal life.
The list of things you can do with it is ginormous! Logos, invitations, blog posts, posters, flyers, social media posts, brochures, t-shirts, videos, checklists, and so on and so on. I also adore their fast and inexpensive printing services that deliver right to your doorstep.
Canva is super easy to learn (lots of video tutorials) and, it offers a highly functional free version. Did I mention how fun it is?! Like really, really fun. Oh, and you can share your designs with a team for even more fun! One more thing! It has an app for your phone and you can design right on it! I'm gushing, but I won't apologize because Canva completely deserves my fervent admiration!
Big, Beautiful Coffee Cup
YETI Rambler 20 oz Tumbler, Stainless Steel, Vacuum Insulated with MagSlider Lid
A high quality coffee cup is an investment for those of us who prefer our homebrew.
I received this one as a Christmas gift in 2020.
I adore it, and apparently so do A LOT of other people as it has over 83,000 reviews and an average of 5 stars.
I splurged a little more and purchased a handle for easy pick-up, something I highly recommend if you have short fingers like me.
Greens Steel Beast Handle for 20oz Tumblers Rambler Cup – Black
Total price for both item is about $50. For those of you who just gasped in horror at the price tag, consider this.
My last high quality coffee cup is still going strong after 5 years.
It just isn't big enough anymore!
Bad Hair Day Solution
BERON 14″ Women Girls Short Curly Bob Wavy Wig 
Looking for a unique gift for the remote worker woman who lives on Zoom?
Ta-dah! Can't go wrong with a perfectly-styled wig.
It's a brilliant solution for this reoccurring remote worker scenario. "Oh, snap! I got a Zoom meeting and I don't feel like washing, drying, and styling my hair." ( me…everyday.)
It's more professional looking than your go-to solutions such as a baseball cap, a beanie, or the hood from your hoodie. And frankly, I'm so over messy buns and palm trees and ponytails. Time for a major refresh.
Plus, wigs come in lots of vibrant colors in case you always wanted to dye your hair pink but were too chicken to do it.
Just think, if you pop up on a screen wearing a wig, you'll liven up yet another boring meeting.
Facial Hair Helper
Finishing Touch Flawless Women's Painless Hair Remover 
This is my trusty, inexpensive (under $20), As-Seen-On-TV tool for facial hair removal.
It gets the job done in about a minute, which is about as much time as I'm willing to invest in hair removal.
There's zero pain involved.
No rashes or noxious smell either.
In case you couldn't tell, I'm super lazy about hair grooming. Probably because I don't sprout an excess of hair on my body. And the little that grows back is blonde–hard to see and feel.
Still, natural lighting is not your friend if you don't tend to your facial hair.
This attractive rose gold grooming tool makes a great stocking stuffer! Battery included.
Easy, Non-Toxic Spray Mop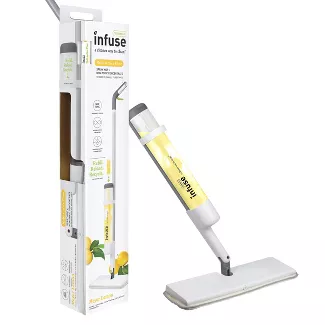 Here's a commercial script for this new mop I'm digging on. (this really happened!)
Husband: "Wow! The floors look really good. What did you do?"
Me: "Thanks! I used my new mop. It's called Infuse. What made you notice?"
Husband: "Well, that white film is gone. And they look shiny and conditioned."
Me: "That's what I thought. The floors look revitalized."
Husband: "And, that chemical odor is absent."
Me: "Yes, the rooms smell fresh."
Me: "Infuse Mop sprays a mixture of water with an essential oil and that's it."
Husband: "That's way better for the dog too."
Me: "Yep! And I like that I can just throw the pad in the wash and reuse it."
Husband: "Even better. Good purchase, honey!"
Me: "I know. Thanks, honey!"
Sold online and in-store at Target.
Love a clever historical mystery series featuring a spirited heroine? Check out my latest Kick-Butt Book Review HERE!
Leather Furniture Makeup
Leather Refinish Color Restorer Dye
I consider myself a leather cleaner and color restorer expert because I've stocked my home with a lot of leather furniture over the years. My current inventory includes:
1 long leather couch.
1 electric leather loveseat recliner with a center console.
2 leather rocker recliners.
1 bench featuring a leather seat.
6 dining room chairs with leather seats.
I love leather for its comfort and endurance however, I like it to look rich and luxurious. To feel supple like whipped butter. Therefore, I do not tolerate cracks, scratches, water spots, faded areas the size of butt-cheeks, or dried-out rough upholstery.
In my book, those conditions constitute leather abuse and neglect.
And there's no excuse because it's SO easy to
care for your leather.
Here's my Love-My-Leather routine.
Step 1.
Gently massage saddle soap with a soft dry cloth to clean and condition. Let dry for 30 minutes.
Step 2.
Apply this awesome Leather Refinish Color Restorer Dye with a soft dry cloth to restore the color. Wait one hour before sitting.
Leather furniture is classic comfort.
If you take care of it, it will take care of you for a long time.
Check out my latest Kick Butt Book Review HERE!
No-Crawl Compression Shorts
I finally found the PERFECT compression shorts! Here's a list of reasons why I'm enamored.
These shorts provide the perfect amount of compression to hold things in without cutting off your circulation.
Inseam is 5 inches so they hit mid thigh. No creeping up issues.
Crotch region is secure not squeezed. Same with the butt area.
The high, wide waistband doesn't move even when bending over.
Material is comfortable and doesn't feel slick.
Inner pocket for stuff. (There's an outer pocket version available as well.)
Great price at $19.99!
The testing of this product included brisk walking, sprinting after a run-away dog, biking, yoga, weights, gardening, picking up dog poo, vacuuming, cleaning the bathtub, and vigorous dance moves!
Check out my latest Kick-Butt Book Review HERE!
Crusty Heel Skin Remover Paddle
During the spring, summer and fall, I walk 4-5 miles a day and run around barefoot a lot.
As a result, my feet require constant care to prevent them from looking and feeling like tree bark.
I've tried a multitude of foot files but Holy Moly…
The Holy File is the bomb!!!
Here's why.
It's curved to fit around your heels
It's coarse so it only requires light pressure to slough off the skin
It has a big surface and a big handle
It's sturdy (I've snapped more than a few files in half)
It works boss on the soles and around the top of the toes
It's double-sided
It's fast
You can use it wet or dry
I LOVE THIS THING. So will you.
Check out my Kick-Butt Book Reviews HERE!
Neck and Shoulder Heated Massager
I recently bought this massager because my neck and upper shoulder back pain was driving me mad!
Yes, my chair massager works well for loosening tight middle to lower back muscles.
Yes, my neck wrap soothes my pain.
But dear lord, the knots on the back of my skull, neck, upper shoulders and blades!
The euphoric look on the model's face is a true representation of how I feel after I use this spot massager featuring gentle heat.
If I was the manufacturer I'd name it, Knots Begone.
Or, The Knot Vanquisher.
Love that you can move it around.
Love that you can increase or decrease the pressure.
I can't rave enough about it!
Best purchase under $60 for getting rid of muscle knots.
And, my HSA covered it.
The Silkiest Lotion
Want a reasonably priced lotion that nourishes your skin without a lot of toxins?
Shea Moisture lotions contain plant based ingredients. No Parabens. No Phthalates. No Mineral Oil. No Petroleum. No Formaldehyde. I've used Shea Moisture products on my skin, both face and body, for 10 years. Most recently I'm a big fan of this one formulated with Frankincense and Myrrh. I also love the female founder's story.
Check out my Kick-Butt Book Recommendations HERE!
Chainmail Scrubber For Cast Iron Pans
Do you enjoy cooking with cast iron but despise cleaning it?
Never fear, help is here in the form of a chainmail (yes, I said chainmail…like what medieval knights wore back in the 10th century) cleaning instrument of destruction.
This get-er-done tool destroys cast iron gunk with minimal effort.
And that means it's actually fun to use.
Which means it's one of my most favorite dish cleaning tools of all time.
A must have for Cast Iron Cookery Lovers!
The Only Garden Hose That Works For Left-Handed Me
Late spring, early summer means gardening for many of us.
Gardens require water which often means using a garden hose.
I used to despise garden hoses.
Dragging what felt like 500 feet of green snake around the yard, constantly having to unkink the kinks, leaks, geysers, burning yourself on the hot rubber, and of course the herculean task of trying to coil the beast up correctly, an exercise in supreme frustration if you're left-handed like me.
But then a wonderful thing happened.
Some genius invented the Flexi Hose.
Now it's a joy to water my plants with this amazing garden hose.
It's easy to use, to move around, to put away.
Thank you, Flexi Hose inventor!
Check out my Kick-Butt Book Recommendations HERE!
Best Vacuum Cleaner Ever
I'm madly in love!
With my new vacuum.
Here's Why.
There's no cord to run over, plug/unplug/plug/unplug, or trip on.
It's lightweight but insanely powerful.
Emptying the canister is a breeze.
I can thoroughly vacuum the entire house in 30 minutes on a single charge.
It has a power max mode that sucks up all the dog hair on my furniture, no problem.
It has an agile head that wiggles around for smooth corners.
Its low profile fits under tables and bed frames.
The extremely useful attachments switch out easily and the base can be used as a handheld.
Long hair doesn't get stuck in the roller.
Did I mention there's no cord?
I know…I'm gushing…but that's what falling in love does to you. Sigh!
Elevate-Your-Wine Tool
Women and Wine…always a sensational pairing!
If the Mom in your life is a wine drinker, you can't go wrong with this under $20 Mother's Day gift idea!
Aerating your wine as it pours out the bottle does indeed make it taste more aromatic, especially if you are pouring value (bargain) wines. Specifically, aerating removes some of that metallic aftertaste. And, using this gadget means you can drink your wine immediately after opening a bottle.
Lots of rave reviews and taste-testing testimonials (try saying that 3 times fast) for this amazing wine lover's gift! A 5 star plus-plus review from me!
Check out my Kick-Butt Book Recommendations HERE!
Best Gift For Voracious E-Readers
Mother's Day is a mere two weeks from today. If the Mom in your life is a reader of eBooks, this is an AWESOME Mother's Day gift. I would know because I've given myself this present for the past three years!! Here's why it's truly the gift that keeps on giving.
5 Reasons Why a Subscription to Kindle Unlimited Will Rock Your Mom Reader's Socks Off!
You can read a Kindle Unlimited (KU) book on any device because you can download the free Kindle app on any device. I read KU books on my laptop, iPad, and phone. BTW, my laptop is not an Apple.
You can check out up to 10 items at a time and, unlike the library, there's

no waiting for a book

to become available. If it's been released and listed in Kindle Unlimited, it's available. Period.
There's something for everyone. Fiction from all genres, Non-Fiction, Shorts, Audio Books, Magazines…so many choices. I've never run out of new offerings.
A KU subscription is economical. If you are a voracious reader like me, this subscription saves you a ton of money. I used to have a book budget of $50-100 a month. Now I'm spending $10 a month for WAY MORE BOOKS. It's a smoking deal especially at these discounted subscription rates.
If you haven't entered the world of eBooks yet, this is a great way to dive in. Right now, Kindle Unlimited is offering a 2 month free trial.
A Kindle Unlimited subscription is the ultimate gift for a Mom who loves to read. She'll thank you every time she reads a new book. And if she gobbles up books like me, that's at least 20 times a month!
Cooling Pillowcases
Having trouble sleeping because you get too hot? Here's an inexpensive yet luxurious solution that helps you stay cool at night and provides a couple great beauty bonuses.
I originally bought these pillowcases because of my Grandma Ann. She swore the satin texture preserved her 1950's hairstyle and helped to prevent sleep wrinkles. Much to my delight, I found they did indeed reduce bedhead and sleep marks, but what really excited me was the fact that these pillowcases stay cool all night long. For 13 bucks, these silky covers are the bomb! Grandma wisdom rules!
Check out my Kick-Butt Book Recommendations HERE!
Crazy But Safe Frustration Buster
Another Stress Relief product for these trying Coronavirus Pandemic days. (Kudos to my daughter Jenna for sending me one a few years back.)
The Dammit Doll is a fabric toy. It's small enough to fling about and body slam without denting the walls or furniture. And you can muffle your shouts of rage with its tiny body. Or scream naughty words at it. The Dammit Doll doesn't have any ears so it won't hear you!
Release your wrath safely. Get a Dammit Doll today.
Check out my Kick-Butt Book Recommendations HERE!
Rapid-Fire Scrabble Game
One of the few benefits of Coronvirus pandemic social distancing is more time for family games. One of our favorites is BANANAGRAMS. It's like Scrabble only faster as participants race to build their crosswords. Great for all ages, including school kids. This game brings a lot of laughter too, as it's hilarious to yell out banana phrases like, "SPLIT"!
Weighted Neck and Shoulder Relief
Because the Coronavirus Pandemic is causing tremendous stress, I'm featuring another comfort promoting, pain relieving product this week. This product is also another item often covered under an HSA (Health Savings Account). If you don't have an HSA, it's affordable at $29.88. This product combines weight, temperature (hot or cold), and aromatherapy. I use it multiple times, EVERY SINGLE DAY. At my desk. At night while I'm sipping a glass of wine. When I first wake. After wrestling with my lab on a long walk. It's one of my most favorite relaxing things EVER!
Check out my Kick-Butt Book Recommendations HERE!
In-House Back Pain Helper
Does your body ache? Can you feel knots of tension in your back? Here's a tried and true back pain relief solution.
STRESS literally hurts our bodies. Like many women, my stress frequently manifests in my neck, shoulders, and upper back. Sometimes I can cajole or barter with my husband to give me a back rub. Occasionally, I'll splurge for a massage, but most often I use this miracle apparatus to iron out those super tight areas. 10 years of chair massages and this baby is still going strong…talk about a great value! Note: if you have an HSA, it may be a covered medical purchase.
Check out my Kick-Butt Book Recommendations HERE!
Guilt-free, Good-Tasting Chocolate
Is there any good sugar free chocolate out there?
Yes, YES!
Lily's is high quality chocolate minus the cane sugar. Stevia is the sweetener so these delectable bars can work for diabetics and those following a low-carb eating plan. I generally consume 1/4 of a bar in a sitting. That's all I require IF I let each square melt in my mouth…ever…so…slowly. If you emulate my daily serving size, this variety 12 pack will last you 48 delicious days.
Would you like to make a sugar free dessert but need expert recipes? Check out The Sugar Free Diva
Check out my Kick-Butt Book Recommendations HERE!